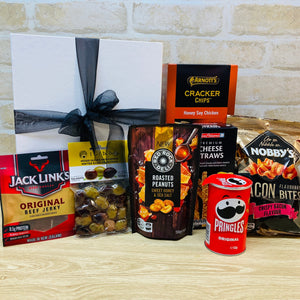 The Savoury Hamper is the perfect gift for someone who doesn't have a sweet tooth.  This box includes gorgeous olives, peanuts, cheese straws, cracker chips, bacon flavoured bites and Pringles.
The Savoury Hamper comes with the following products:
Iliada mixed olives with herbs (100gm)

Jack Links Beef Jerky (25gm)
Arnott's Cracker Chips (150gm)
Small Pringles (53gm)

Roasted Peanuts (130gm)
Bacon Bites (40gm)
Premium Cheese Straws (100gm)
*Please note that depending on stock availability we may need to substitute items with similar products of the same or higher value.
Wellington Flower Co. only delivers quality